Filter by Category
MS Word
MS Word - Level 1
with Michael Stephens

Jan 24, 2024 at 9 am
This one-day workshop provides the basic concepts and skills to help you begin your journey with Microsoft Word. You'll learn: how to create, format, and set up a document, and how to add graphics and tables. This class is most effective for students wanting the knowledge to accomplish basic workplace tasks in Word, or to gain a solid foundation for continuing on to become a Word expert! This workshop is also a great place to start if you are thinking about taking the Microsoft Office Specialist exam, though more classes are needed to be fully prepared to take the exam. Familiarity with computer and Microsoft Windows are needed for this class.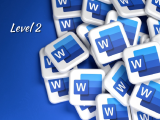 MS Word - Level 2
with Michael Stephens

Mar 7, 2024 at 9 am
This course will provide the concepts and skills to use some more advanced features of Microsoft Word, including enhanced formatting, references, editing, and sharing, and saving to various formats. Those wanting to use Word to accomplish advanced workplace tasks will benefit greatly from this class. Familiarity with computers, Microsoft Windows, and the[BN1]  basics of MS Word are needed for this class.