Filter by Subcategory
LIFE Enrichment
Candle Making - Holiday Style
with Trish Rader

Nov 14, 2023 at 5:30 pm

, runs for 1 week
'Tis the season for gift making and after this class you'll be able to add candles to your repertoire! You'll learn how to create your own uniquely scented, holiday-themed candles using soy wax and natural fragrances. We'll cover how to make candles easily and safely, tips to start an at-home business, gift giving, and more!
Will run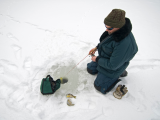 Ice Fishing Rod Making
with Chris Rice

Dec 2, 2023 at 9 am
In this one-day class, you'll learn the principles of creating and building your own ice fishing rod. The skills you learn can then be used to build many types of fishing rods - all unique and one of a kind!
Cost includes all class materials. Bring Your Own Lunch. 
Will run